PRESS
PRess on Cinewav
Cinewav presents an unprecedented ability to scale audio to large public displays including drone shows, fireworks, fountain shows, movies. The platform allows users to listen to the big event on their own smartphones perfectly in sync. The following is press we've received from around the world as Cinewav is being implemented in various festivals.
About Cinewav
Event audio in your pocket
CINEWAV is Event Audio in your Pocket. 
A world-first, scalable audio solution that delivers in-sync, immersive high quality audio to audiences using their own mobile phones and earbuds.
Whether you're planning:
a large outdoor movie screening, 

projection mapping, 

audio tour, 

fireworks or drone show, 
CINEWAV is the perfect software solution that can easily replace traditional speakers and heavy expensive sound systems. It can even stream live audio for sports commentary.
Cinewav is patented technology (US 11445238B2) perfect for large scale event audio.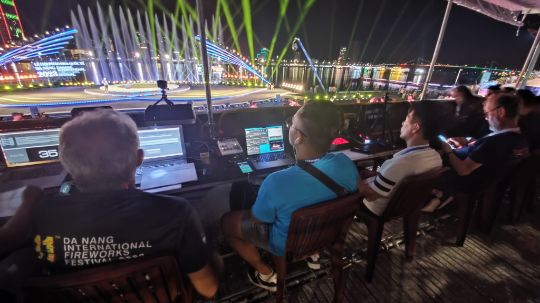 Cinewav works with Qlab or Christie's Pandora's Box
Cinewav works perfectly with industry standard queue systems like QLab or Christie's pandora's box. Using TCP commands, you can trigger Cinewav to start, stop or replay in time with your lighting, projection or fireworks show. 
Cinewav can act as a server or client in this situation - all you need is to make sure the Cinewav player is on a laptop on your network.
In this image the central laptop is receiving Midi Timecode from the main controller. The laptop here has both QLab and Cinewav player on it and QLab is programmed to trigger Cinewav to PLAY at a specified time. 
How it works - Event Holders and Users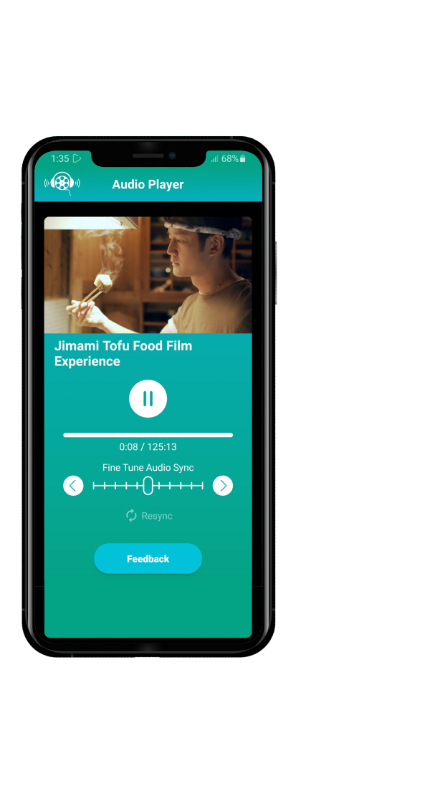 download the Cinewav app
On Google Play, Apple Store and Huawei app gallery
Find an Event you like
Browse exciting, novel cinematic events near you
buy and download the audio ticket
Secure online payment process; your ticket is always on your phone. The audio file can be downloaded in-app prior to the event.
enjoy the cinewav experience
Bring your favourite headphones and watch the film on a big screen while listening to the audio from your smartphone.
Frequently Asked Questions
Will it use a lot of data?
No, the Cinewav app downloads an audio file to the phone. A typical audio file for a 2 hour movie is approx 30MB.
During a movie we use just 1MB per hour to keep you in sync!
Will it drain the phone's battery?
No, for pre-recorded audio like movies, because we are just playing a local audio file and we don't need your phone screen to be on we use hardly any battery. It's like playing an audio podcast. However, i
f you're using LIVE audio broadcast then it will be more like a phone call in terms of battery use.
Is there a distance limitation?
There is no distance limitation since we're not using FM or local broadcasting methods like bluetooth or Wifi. You can be anywhere in relation to the Cinewav player and as long as you have an internet connection (4G or even 3G) you can still play audio in sync. This is perfect for large scale shows like fireworks, drone shows, projection mapping.
Is there a limit to the number of listeners?
No, our platform can scale your listeners to literally millions. Of course we have to prepare for it if needed. We have tested it to 100,000 simultaneous connections at one exhibit. No one yet has needed more than this but please contact us if you'd like more!
How do I get started?
We can onboard your team in 30 mins and you can get started using Cinewav almost immediately. For larger scale projects do contact us so we can discuss your needs.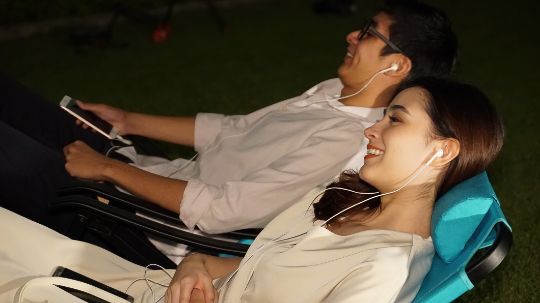 Why use cinewav?
Event Holders:
Turnkey solution for event movie screenings

Scalable audio for large scale shows: fireworks, building projection mapping, drone shows

No special equipment required - a laptop and a projector

Scalable audio without noise pollution

Replace expensive sound systems

Turn any outdoor or indoor space into a cinema

Pre-sell tickets and F&B

Contactless ticketing

Ticket scanner app

Movie library with films from Disney, 20th Century Studios, Pixar, Marvel, Star Wars, Fox Network Group, Sony and growing...