Cinewav is a platform that allows users to watch a movie on a big screen while listening to the audio on their smartphones (in high quality and perfectly in sync). 
Using headphones allows users to cut out background noise while controlling their own audio for optimal levels.
This has great applicability to the delivery of lessons in the classroom especially in view of poor acoustics, high background noise and low signal to noise ratio in many schools. 
Meanwhile it preserves the synchronised learning environment which is so important to schooling. 
The Problem
Education still primarily consists of a teacher delivering instructional content to students. Whether it's done through a blackboard, whiteboard or digitally it is

audio-visual

delivery of content.

Audio is generally poorer than visuals (and probably represents more than 50% of the content)

Background noise in most classrooms is much higher than recommended by WHO

Signal (teacher's voice) to noise (background noise) ratio is far below recommendations

Signal (teacher's voice) drops off significantly the further away students sit or as teachers move through the classroom

Large class sizes contribute to the noise and signal issue

Studies show significant detrimental impact on learning due to poor signal to noise ratio and background noise

Improving signal to noise ratio can be expensive and cumbersome (new architecture, acoustic treatment, amplifiers, FM transmitters)
What is signal to noise ratio?
Dr Carol Flexer discusses signal to noise ratio in the classroom and the profound effect on a child's ability to learn
The Solution
Cinewav allows students to watch a pre-recorded lesson on a shared, big screen while listening to the audio on their smartphones using

headphones

. It delivers high quality audio perfectly in sync with the visuals. This simple delivery solves the above problems by:
eliminating background noise

raising signal to noise ratio to optimum levels for every student (regardless of where they are seated)

eliminating distraction from surrounding student chatter

allowing students the focussed space for individual concentration and flow

keeping all students in sync with the visuals and each other - social constructivism is preserved

allowing the teacher to start, stop or skip through the AV presentation keeping everyone in sync

allowing the class to be split so that half can experience content through Cinewav while the other half can do group work (improving teacher to student ratios)

using hardware that students and teachers already have (teacher laptop and student smartphones)
added benefits
Digitising of classroom content allows scalability of delivery - teachers can share content through the school or between schools (perfect for specialised teaching like foreign languages)

Multi-track feature on Cinewav allows different audio tracks to be played in sync with the visuals. This could be used for delivery of classes in different languages simultaneously OR different levels of instruction. 

Preservation of teachers' voices and energy allows greater individual or small group attention from teachers.
Concluson
"The reviewed studies document harmful effects of noise on children's learning. Children are much more impaired than adults by noise in tasks involving speech perception and listening comprehension. Non-auditory tasks such as short-term memory, reading and writing are also impaired by noise. Depending on the nature of the tasks and sounds, these impairments may result from specific interference with perceptual and cognitive processes involved in the focal task, and/or from a more general attention capture process."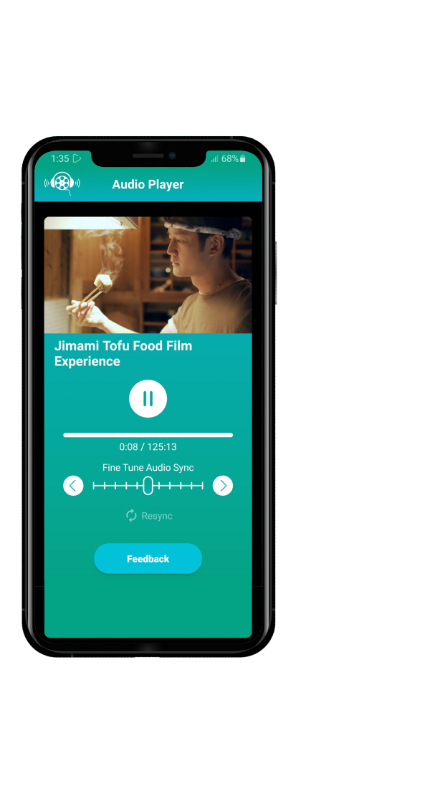 How it works - for students
download the Cinewav app
On Google Play and Apple Store
download the lesson
Teachers can share private, direct links to their lessons
Play
When the teacher plays the visuals in the classroom students simply press play on their own phones
Minimal data
Uses minimal data, approx 2MB (equivalent of 1 email) over 2 hours