About Cinewav
New Audio solution for outdoor Cinema
Transform your outdoor cinema with this new audio solution: Cinewav. It replaces speakers and there is no need for FM transmitters or broadcasting. Setup an outdoor cinema without expensive, heavy, man-power intensive audio systems.
Users can simply: watch on a big screen, listen on their phone.

A scalable audio solution for outdoor cinema. No streaming or broadcasting. 

Users only need the Cinewav app and their earbuds.

Event holders only need the Cinewav player on a laptop.
Cinewav is not just an audio solution it is a turnkey solution for event movie screenings including an inbuilt library of films you can choose from!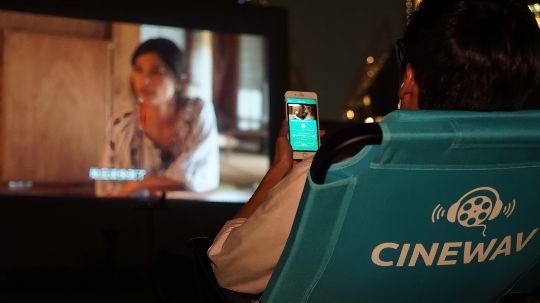 Watch on a BiG screen
listen on your phone
Cinewav allows audience members to watch a film on a big screen while listening to the audio on their smartphones (in high quality and perfectly in sync).

Reduce the audio setup for your outdoor cinema to just an app on your laptop. No need for costly, man-power intensive speaker systems, FM broadcast or complicated wifi hardware.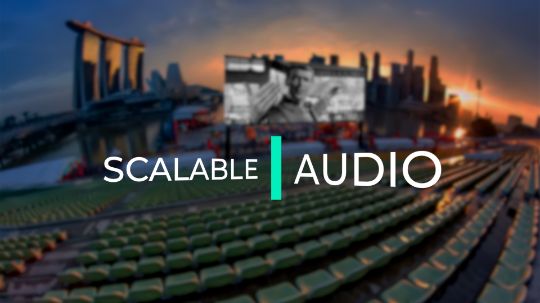 Scalable audio
Cinewav is a truly scalable audio solution for outdoor cinema. Scale with no effort to thousands or hundreds of thousands!
Or, you can have socially distanced screenings. The distance from the screen no longer affects your audio experience.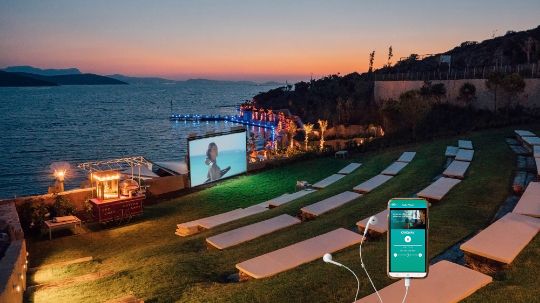 turn any space into a cinema
The technology allows the creation of novel new cinematic experiences just about anywhere: on rooftops, in the middle of the city, on beaches, in forests (all without noise pollution or compromise in audio quality).
Achieving audio visual sync this way is a world first.  Cinewav is a revolutionary audio solution for outdoor cinema and the technology is patent pending.
Turnkey solution for event movie screenings
Just some of the Films available on Cinewav
Cinewav even has an inbuilt movie library with titles from Disney, Pixar, Star Wars, Marvel, 20th Century Fox, Sony, Nat Geo and more... Just pick a movie, we'll help you get the licence then plug and play! You never have to source a DVD or Bluray for your movie screenings ever again. Event movie screenings have never been easier! 
Our list of films is constantly growing...
(Titles and licences are subject to final studio approval)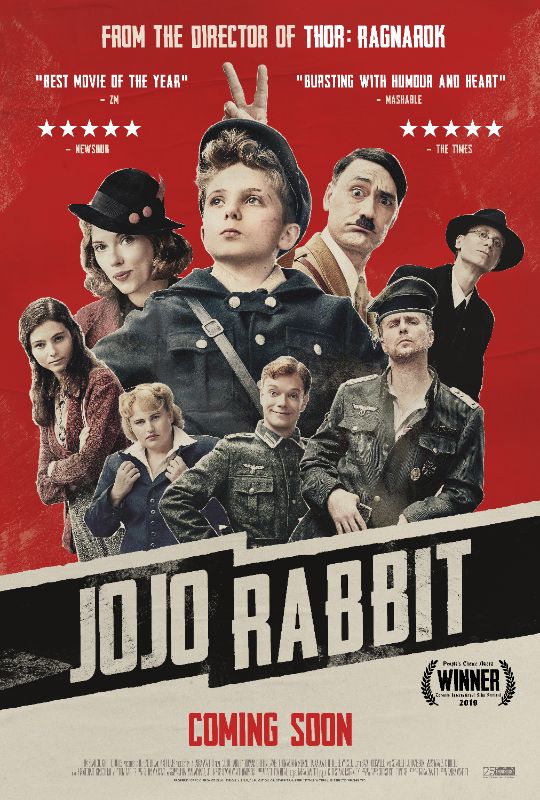 Jojo rabbit
A World War II satire that follows a lonely German boy whose world view is turned upside down when he discovers his single mother is hiding a young Jewish girl in their attic. Aided only by his idiotic imaginary friend, Adolf Hitler, Jojo must confront his blind nationalism.

© 2019 Twentieth Century Fox Film Corporation. All rights reserved.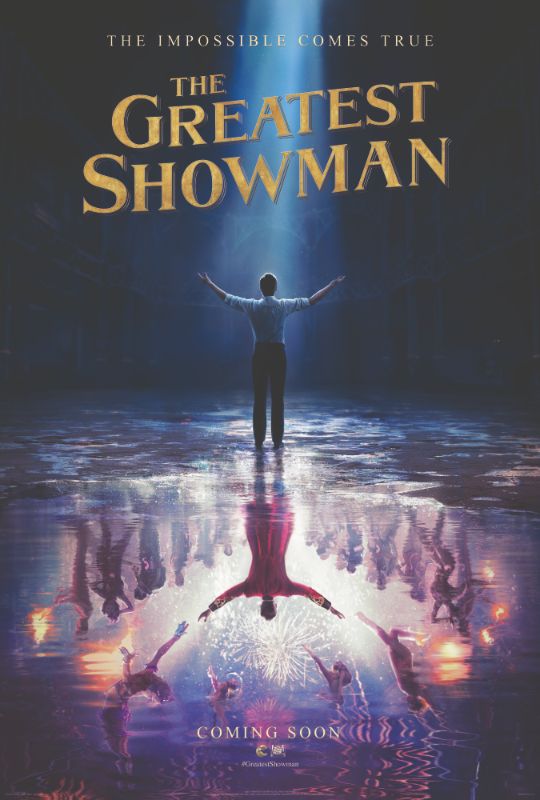 The Greatest showman
Inspired by the legend and ambitions of America's original pop-culture impresario, P.T. Barnum, comes an inspirational rags-to-riches tale of a brash dreamer who rose from nothing to prove that anything you can envision is possible and that everyone, no matter how invisible, has a stupendous story worthy of a world-class spectacle.

© 2017 Twentieth Century Fox Film Corporation. All rights reserved.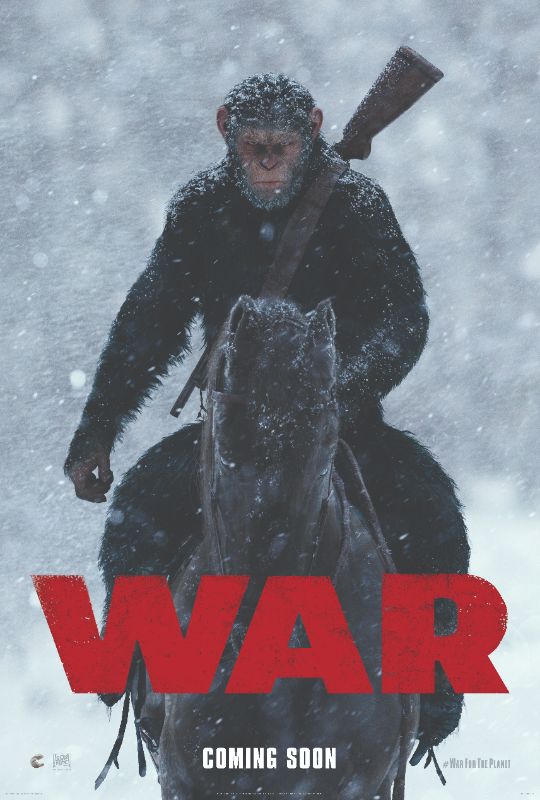 War for the planet of the apes
Caesar and his apes are forced into war with an army of humans led by a ruthless Colonel. After the apes suffer unimaginable losses, Caesar wrestles with his darker instincts and begins a mythic quest to avenge his kind, and will confront the Colonel in an epic battle to determine the fate of both their species and the future of the planet.

© 2017 Twentieth Century Fox Film Corporation. All rights reserved.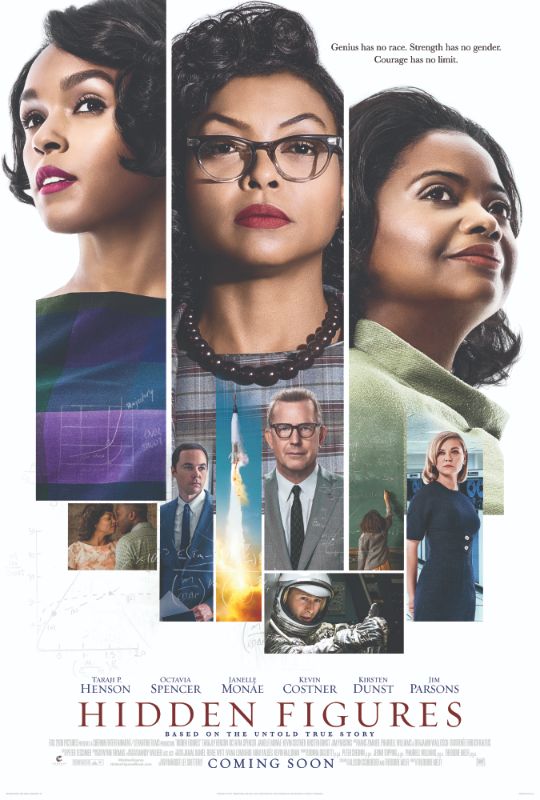 Hidden figures
The incredible, untold yet true story of a brilliant group of women who changed the foundations of the country for the better –by aiming for the stars. The film recounts the vital history of an elite team of black female mathematicians at NASA who helped win the all-out space race against America's rivals in the Soviet Union and, at the same time, sent the quest for equal rights and opportunity rocketing forwards.

Copyright: © 2016 Twentieth Century Fox Film Corporation. All rights reserved.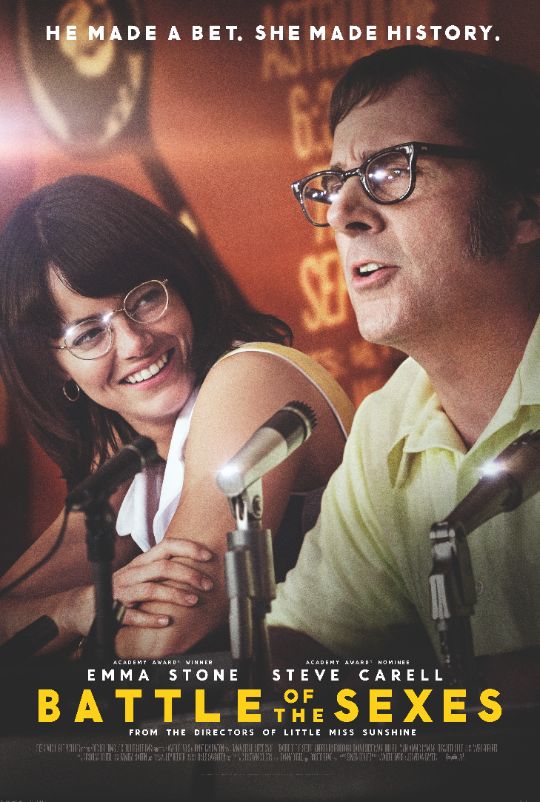 battle of the sexes
The electrifying 1973 tennis match between current women's champion Billie Jean King and ex-men's champion Bobby Riggs was billed as the "Battle of the Sexes" and became the most-watched, televised sports event of all time. The match also sparked a global conversation on gender equality, spurring on the feminist movement.
© 2017 Twentieth Century Fox Film Corporation. All rights reserved.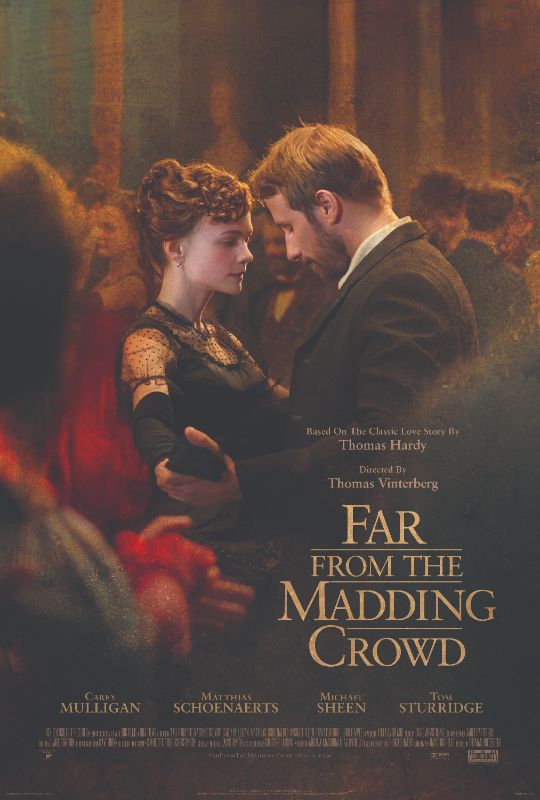 Far from the madding crowd
Based on the literary classic by Thomas Hardy, FAR FROM THE MADDING CROWD is the story of Bathsheba Everdene, a fiercely independent and spirited young woman who inherits her uncle's farm. Financially autonomous (a rarity in Victorian times), beautiful and headstrong –she attracts three very different but determined suitors. This timeless story of Bathsheba's choices and passions, while trying to maintain her own independence, explores the nature of relationships and love –as well as the human ability to overcome hardship through resilience and perseverance. 

© 2015 Twentieth Century Fox Film Corporation. All rights reserved.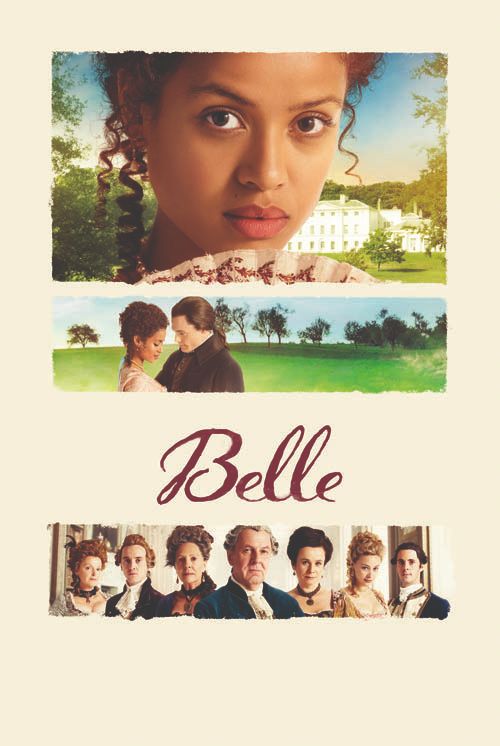 Belle
BELLE is inspired by the true story of Dido Elizabeth Belle (Gugu Mbatha-Raw), the illegitimate mixed race daughter of a Royal Navy Admiral. Raised by her aristocratic great-uncle Lord Mansfield (Tom Wilkinson) and his wife (Emily Watson), Belle's lineage affords her certain privileges, yet the color of her skin prevents her from fully participating in the traditions of her social standing. Left to wonder if she will ever find love, Belle falls for an idealistic young vicar's son bent on change who, with her help, shapes Lord Mansfield's role as Lord Chief Justice to end slavery in 18th century England.
© 2014 Twentieth Century Fox Film Corporation. All rights reserved.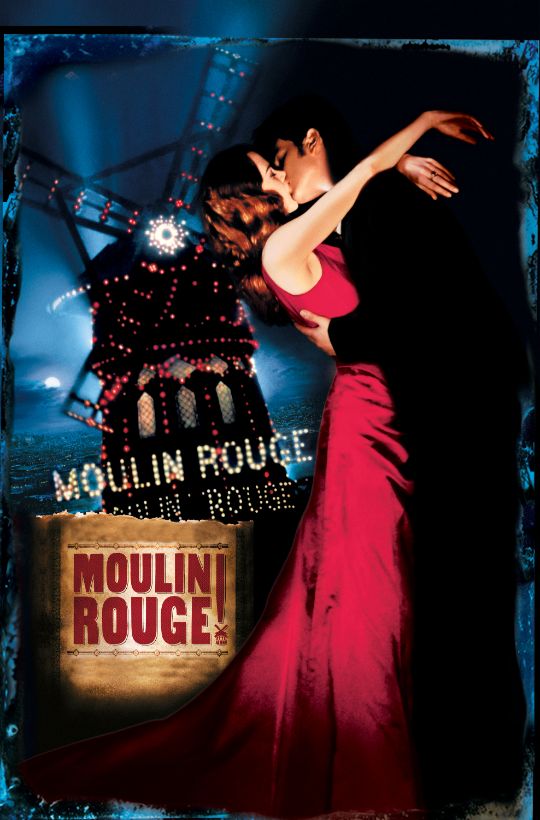 Moulin rouge
This story is about Truth, Beauty, Freedom... but above all... Love. Picture this: A sepia-coloured rooftop studio, the icons of nineteenth century Paris out the window. A garrulous tribe of hand-colored bohemians lead by Toulouse Lautrec are improvising a revolutionary musical due to open the Moulin Rouge night club -and not making much headway. Then, one of the Bohos trips over the cord of their absinthetron/synthesizer and they all pile through young wannabe Bohemian poet Christian's garret roof. A pop-prescient talent who spontaneously spouts the greatest love songs of the unborn (twentieth) century, Christian is the answer to their problems.

© 2001 Twentieth Century Fox Film Corporation. All rights reserved.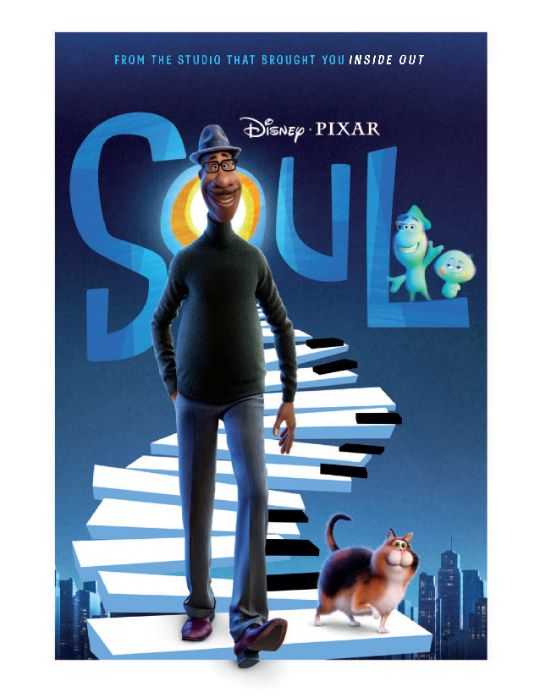 soul
Jamie Foxx leads an all-star cast in this hilarious, heart-filled adventure. Pixar's "Soul" introduces Joe, who lands the gig of his life at the best jazz club in town. But one misstep lands Joe in a fantastical place: The Great Before. There, he teams up with soul 22 (Tina Fey), and together they find the answers to some of life's biggest questions.

© 2020 Disney/Pixar. All Rights Reserved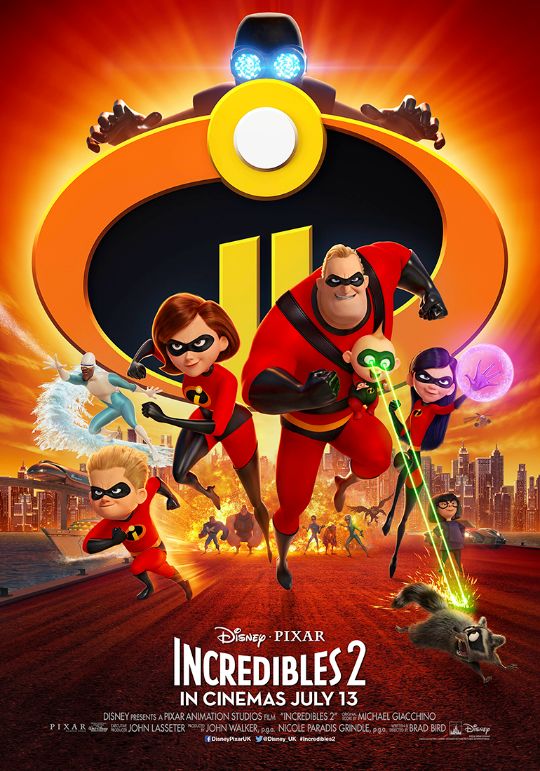 Incredibles 2
In Incredibles 2, Helen is called on to lead a campaign to bring Supers back, while Bob navigates the day-to-day heroics of "normal" life at home with Violet, Dash and baby Jack-Jack –whose superpowers are about to be discovered. Their mission is derailed, however, when a new villain emerges with a brilliant and dangerous plot that threatens everything. But the Parrs don't shy away from a challenge, especially with Frozone by their side. That's what makes this family so Incredible.

©2018 Disney/Pixar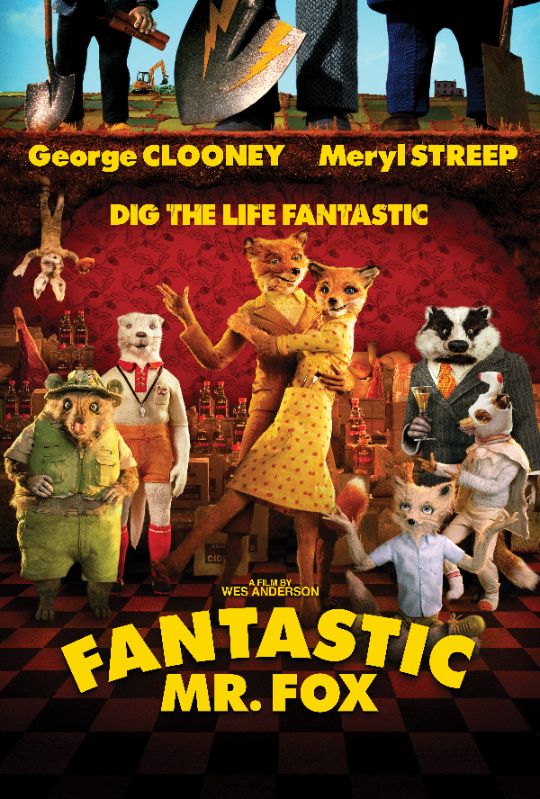 fantastic mr fox
Mr. and Mrs. Fox (Clooney and Streep) live an idyllic home life with their son Ash (Schwartzman) and visiting young nephew Kristofferson (Eric Anderson). But after twelve years of quiet domesticity, the bucolic existence proves too much for Mr. Fox's wild animal instincts. Soon he slips back into his old ways as a sneaky chicken thief and in doing so, endangers not only his beloved family, but the whole animal community. Trapped underground without enough food to go around, the animals band together to fight against the evil Farmers -Boggis, Bunce and Bean -who are determined to capture the audacious, fantastic Mr. Fox at any cost. In the end, he uses his natural instincts to save his family and friends.

Fantastic Mr. Fox© 2009 Twentieth Century Fox Film Corporation and Indian Paintbrush Productions LLC. All rights reserved.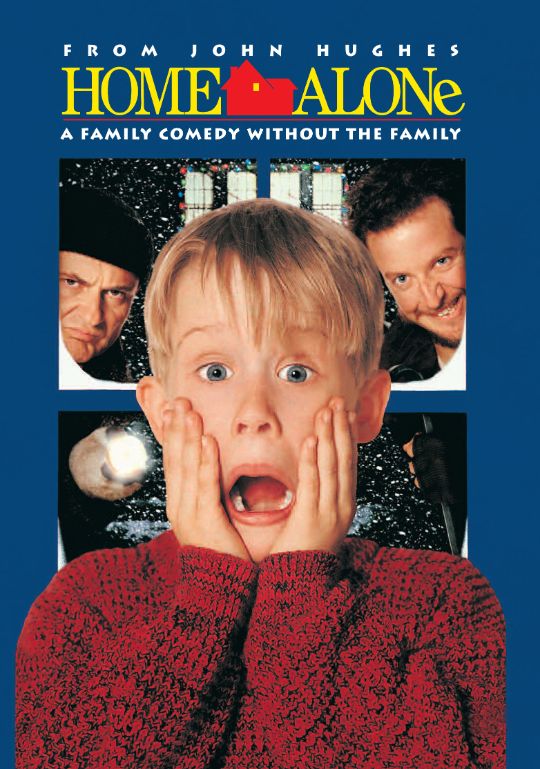 home alone
When little Kevin McCallister is accidentally left behind when his family dashes off on a Christmas trip, he is left to defend his family's home from two bumbling burglars until the relatives return.

© 1990 Twentieth Century Fox Film Corporation. All rights reserved.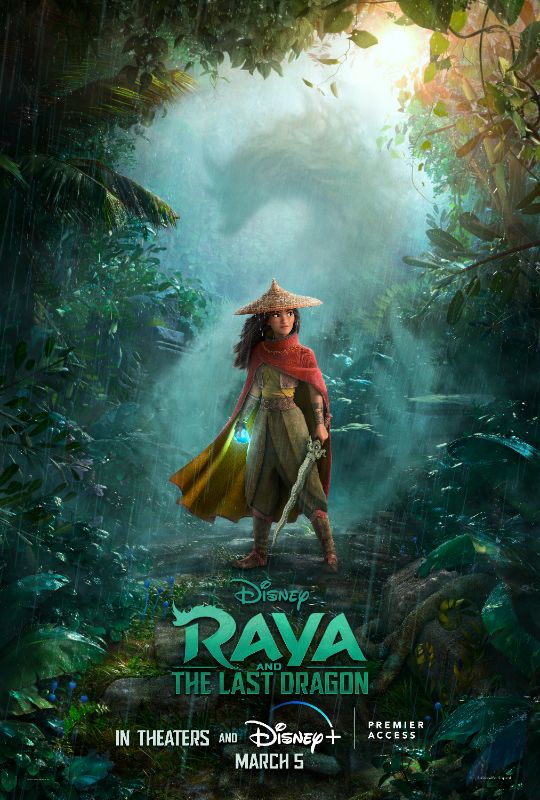 raya and the last dragon
In a land called Kumandra, split into five different regions, a warrior named Raya searches for the last dragon in the world.
© 2021 Disney© 2019 Twentieth Century Fox Film Corporation. All rights reserved.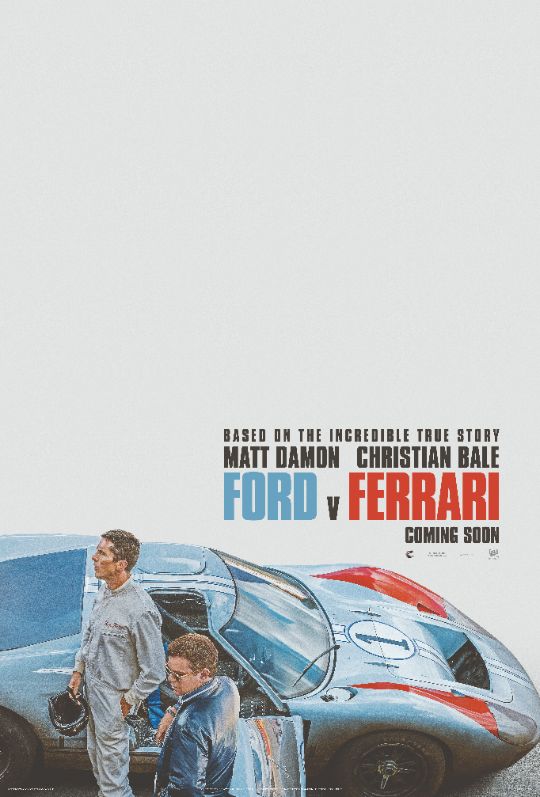 le mans '66 Ford v ferrari
Academy Award winners Matt Damon and Christian Bale star in FORD v FERRARI, based on the remarkable true story of the visionary American car designer Carroll Shelby (Damon) and the fearless British-born driver Ken Miles (Bale), who together battled corporate interference, the laws of physics, and their own personal demons to build a revolutionary race car for Ford Motor Company and take on the dominating race cars of Enzo Ferrari at the 24 Hours of Le Mans in France in 1966.

© 2019 Twentieth Century Fox Film Corporation. All rights reserved.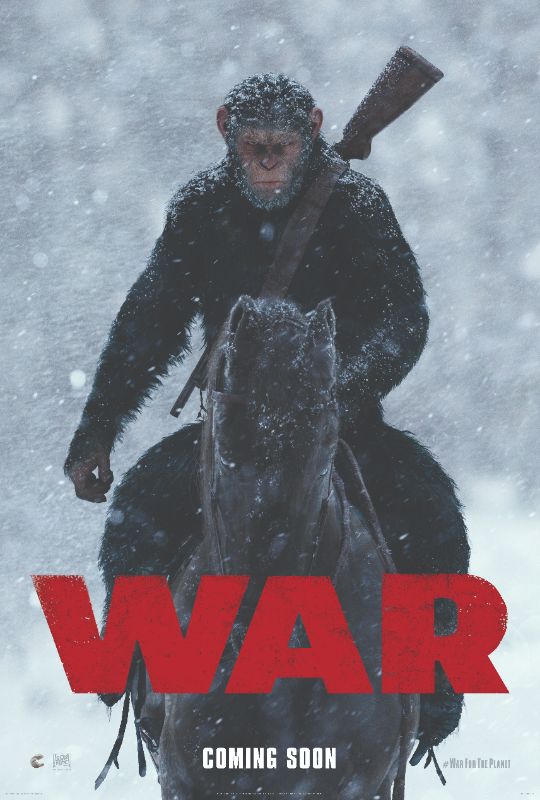 War for the planet of the apes
Caesar and his apes are forced into war with an army of humans led by a ruthless Colonel. After the apes suffer unimaginable losses, Caesar wrestles with his darker instincts and begins a mythic quest to avenge his kind, and will confront the Colonel in an epic battle to determine the fate of both their species and the future of the planet.

© 2017 Twentieth Century Fox Film Corporation. All rights reserved.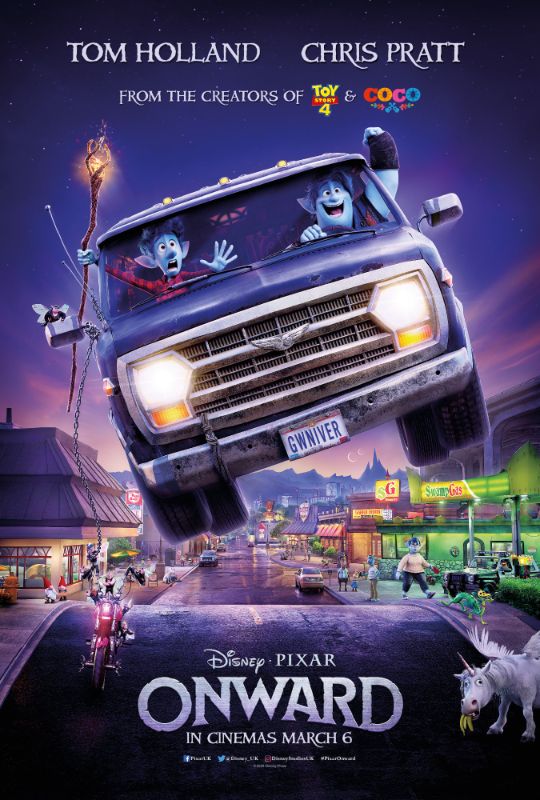 onward
Set in a suburban fantasy world, Disney and Pixar's "Onward" introduces two teenage elf brothers who embark on an extraordinary quest to discover if there is still a little magic left out there. "The story is inspired by my own relationship with my brother and our connection with our dad who passed away when I was about a year old," says director Dan Scanlon. "He's always been a mystery to us. A family member sent us a tape recording of him saying just two words: 'hello' and 'goodbye.' Two words. But to my brother and me—it was magic.

© Disney/Pixar. All Rights Reserved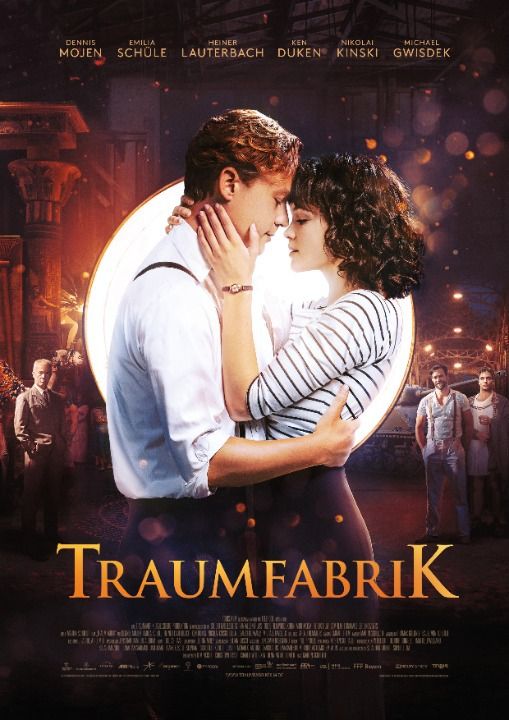 TRAUMFABRIK / DREAM FACTORY
Summer 1961: Emil is working as an extra at the DEFA studios in Babelsberg, East Germany when he falls head over heels in love with a French dancer named MILOU. The two young lovebirds are obviously meant for each other, but the building of the Berlin Wall soon tears them apart. It looks like they will never see each other again, that is, until Emil has a crazy idea: He's going to produce a movie and bring Milouback to Babelsberg!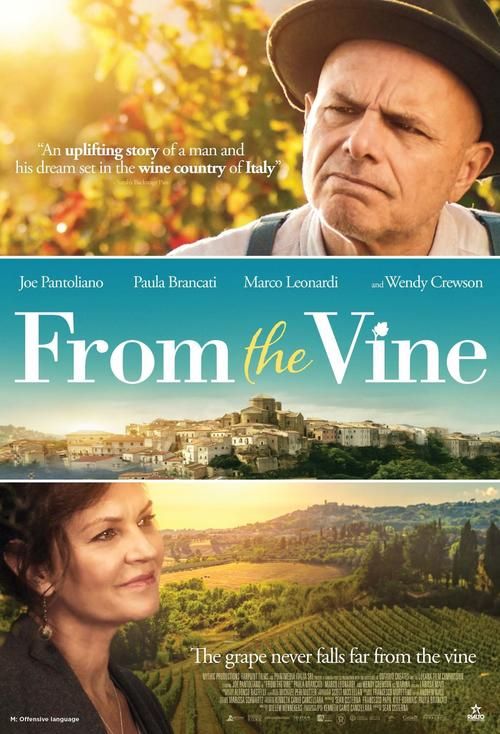 FROM THE VINE
From The Vine is the story of a downtrodden CEO experiencing a moral crisis that travels back to Italy to re-calibrate his moral compass. He discovers new life by reviving his Nonno's old vineyard, offering the small town of Acerenza a sustainable future and reconnecting with his family in the process. Combining magic realism and Italian neorealism, and set against the backdrop of wine country Italy, the film is about finding your roots in your family when you're at the bottom of the barrel.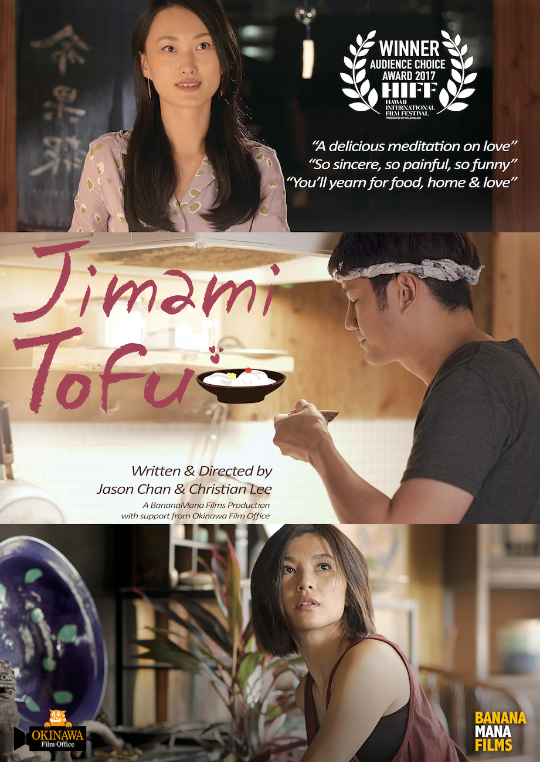 jimami tofu
A Singaporean chef formerly working in Tokyo, finds himself in Okinawa begging a disgruntled old chef to teach him traditional Okinawan food. A top Japanese food critic finds herself in Singapore on an eye opening discovery of Southeast Asian cuisine. In reality both are looking for each other after an emotional breakup years ago when she left him without a trace. A love story between a Chinese Singaporean chef, and a beautiful Japanese food critic woven around 100 year old Okinawa Ryukyu Dynastic cuisine that holds the life medicine their broken hearts need to mend.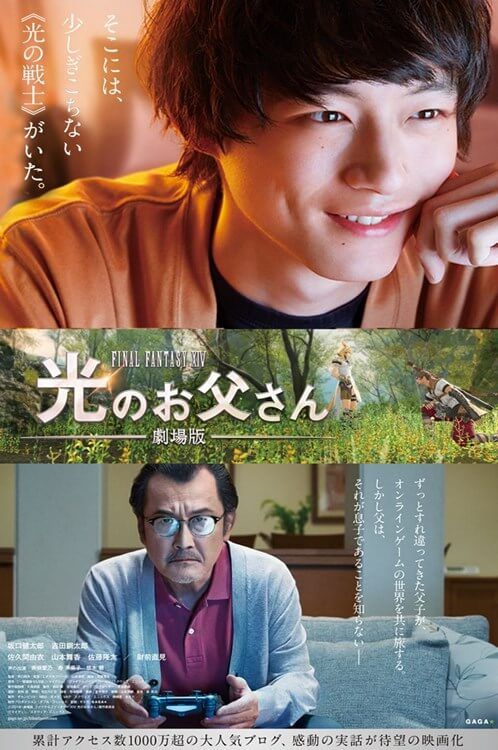 BRAVE FATHER ONLINE
Akio wishes he had a better relationship with his reserved father Akira. One day Akira suddenly quits his job and retires without giving out any explanation to the family. Thinking it could be a good tool to be close to his father, Akio gives him software of online game "Final Fantasy XIV". By teaching his father how to play the game and secretly interacting with him as an anonymous online avatar, Akio hopes to know his father better through the adventures with other players in the game; little does the young man know what Akira is going through…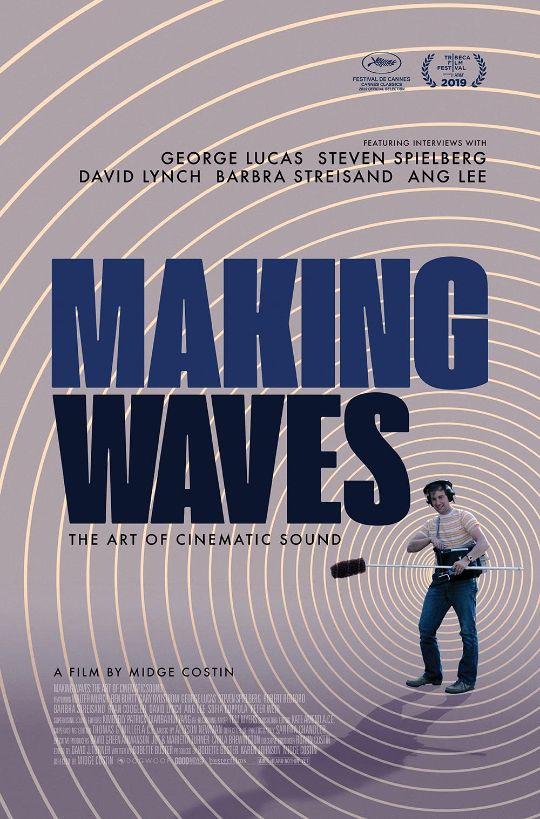 Making waves
Making Waves showcases the primal storytelling power of sound through the personal histories, experiences and expertise of sound pioneers who became award-winning artists in Sound Design. The film features interviews with premier sound designers like Walter Murch, Gary Rydstrom, and Ben Burtt, as well as great film directors known for working so closely with their sound designers, like George Lucas, Robert Redford, Peter Weir, Christopher Nolan, Sofia Coppola, David Lynch, and Ai-Ling Lee.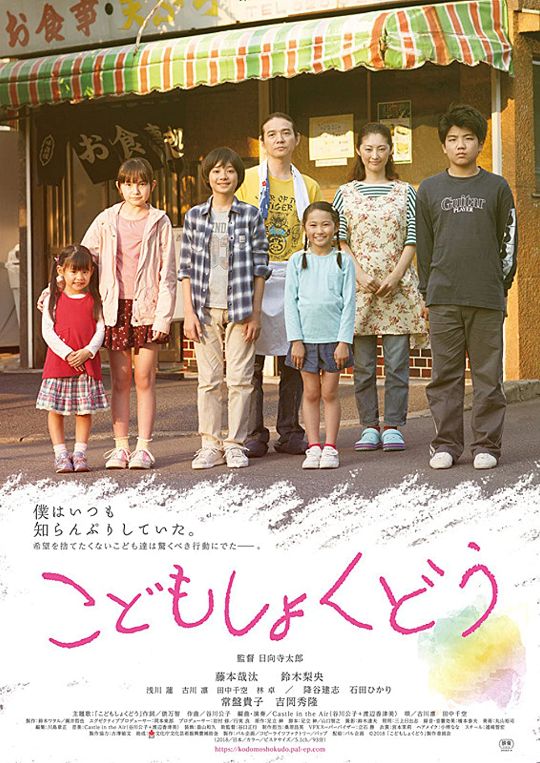 The kid's diner
Shockingly many children in Japan come from homes that are below the relative poverty threshold as Japan has one of the highest rates of child poverty in the developed world. According to the Ministry of Health, Labor and Welfare, one out of six children lives in poverty. Reflecting this reality some citizens are taking action; one successful solution are 'kids' diners' or cafeterias for the underprivileged. Typically at these 'diners' volunteer staff cook donated foods. Hot meals are provided free or very cheap to children from homes unable to provide healthy meals. Volunteering at these local 'diners' is an example of a fast-growing activism. The film depicts modern Japan seen through the eyes of children whose lives revolve around 'The Kids' Diner.' The film explores themes of community solidarity as no one can live alone.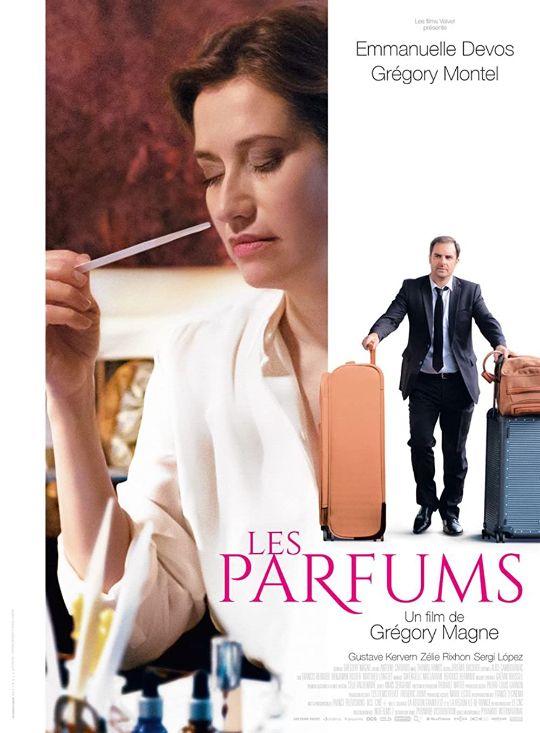 les parfums
Anne Walberg is a celebrity in the perfume world. She creates fragrances and sells her incredible talent to companies of all kinds. She lives as a diva, selfish, well-tempered. Guillaume is her new driver and the only one who is not afraid to stand up to her. No doubt this is the reason why she does not fire him.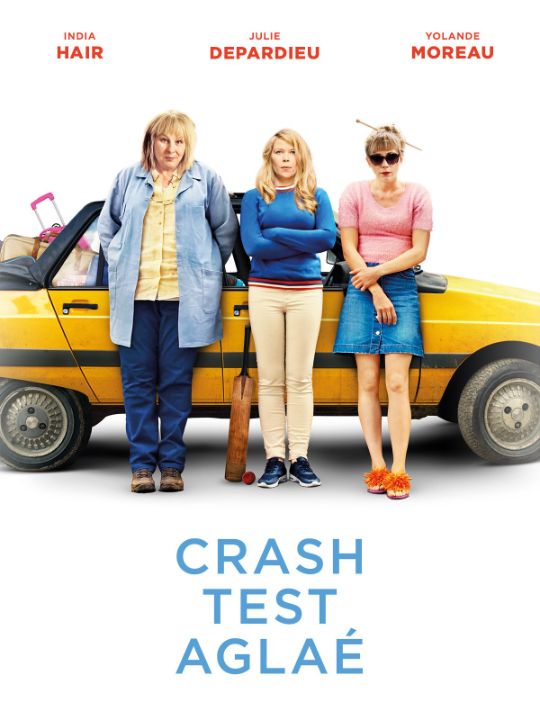 crash test aglae
Aglaé, a young woman with a hopelessly rigid personality, has one reason for living: her job. She works in the crash test team of a car manufacturing plant. When the management announces that the activity will be relocated to India, she decides, to everyone's astonishment, that she prefers to move there rather than lose her job. After all, she does enjoy playing cricket!
Together with two (reluctant) colleagues and an old shabby car as means of transportation, she embarks in an absurd journey to the end of the world, which will transform a fixed idea into an unlikely personal quest.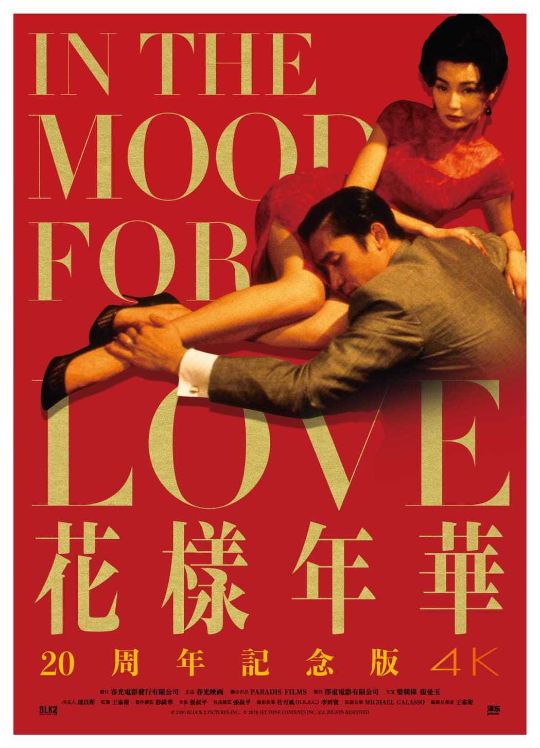 in the mood for love
In 1962, journalist Chow Mo-wan (Tony Leung Chiu Wai) and his wife move into a Hong Kong apartment, but Chow's spouse is often away on business. Before long, the lonely Chow makes the acquaintance of the alluring Su Li-zhen (Maggie Cheung Man-yuk), whose own significant other also seems preoccupied with work. As the two friends realize their respective partners are cheating on them, they begin to fall for one another; however, neither wants to stoop to the level of the unfaithful spouses.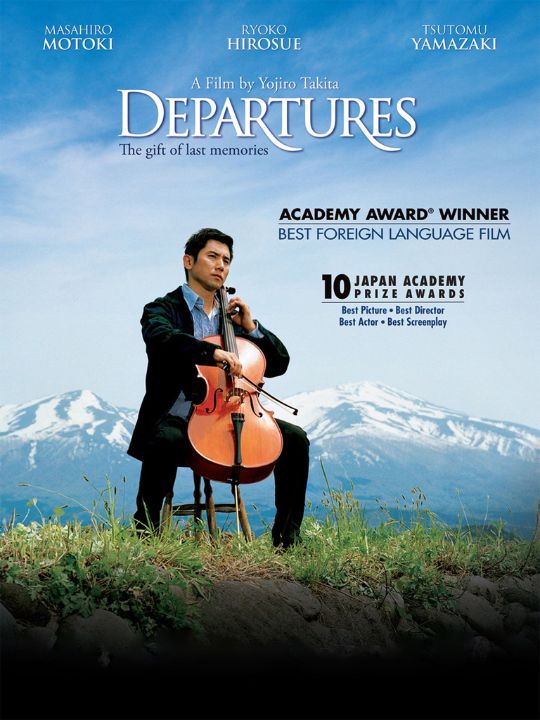 departures
Soon after buying an expensive cello, Daigo Kobayashi (Masahiro Motoki) learns that his orchestra is disbanding. Daigo and his wife move back to his hometown in northern Japan, where he answers an ad for what he thinks is a travel agency but is, in actuality, a mortuary. As he learns and carries out the rituals used in preparing the dead for their final rest, Daigo finds his true calling in life.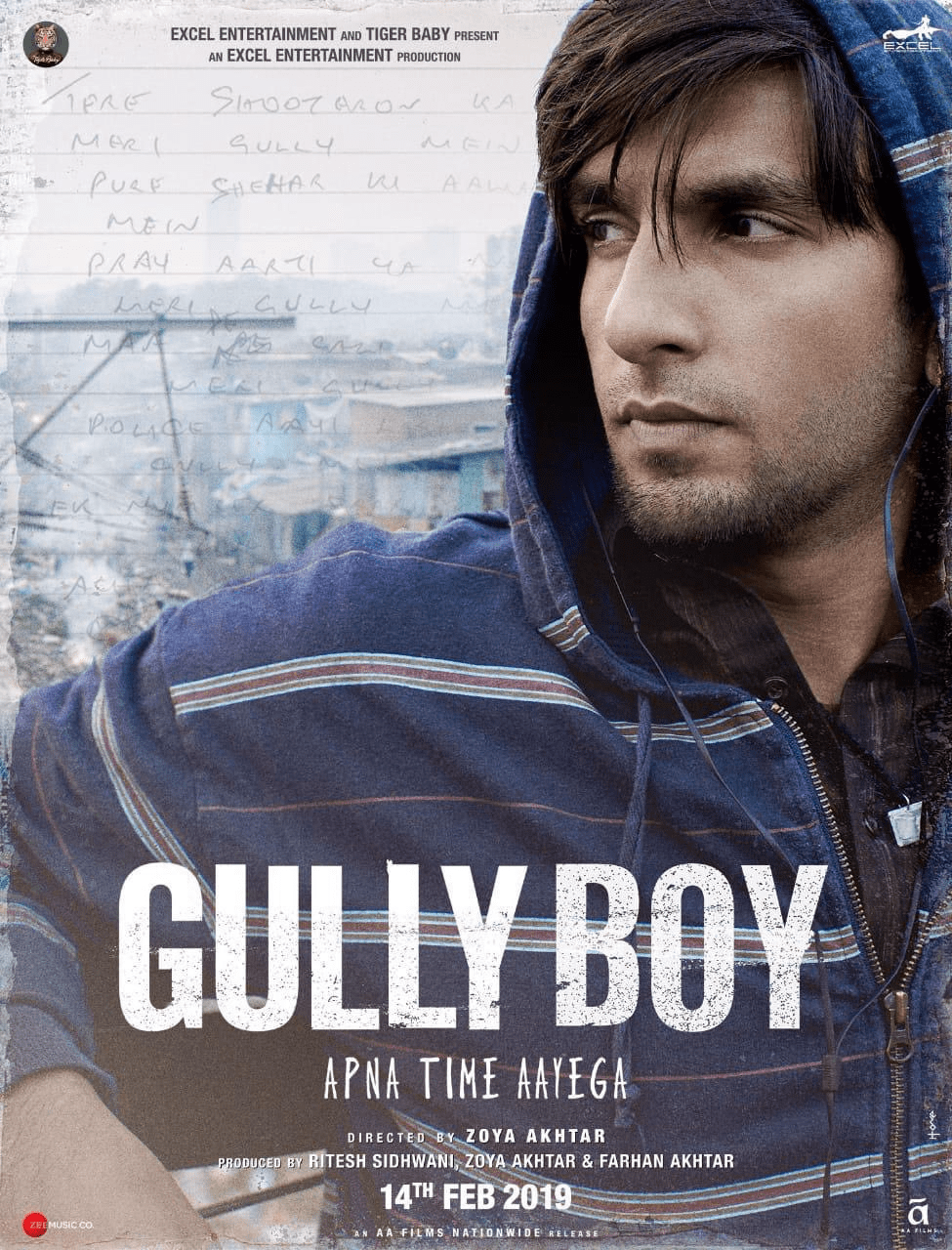 les parfums
"Gully Boy" is a film about a 22-year-old boy "Murad" from a ghetto in Mumbai, India. The son of a driver, his parents worked hard to get him educated so that he could have a white collar job. Meanwhile, Murad realizes his calling to be a rapper. Authentic Hip Hop in India is a recent phenomenon and like anywhere else in the world, is rising from the streets. Art is a distant dream for the colonized poor of India and this story is about Murad's journey from realizing his love for rap and chasing his dream to inadvertently transcending his class. The film showcases street rap from the crevices of Mumbai's by lanes. The poetry is conscious of the city's socio-economic fabric and highlights the challenges faced by the disenfranchised youth in the minority population.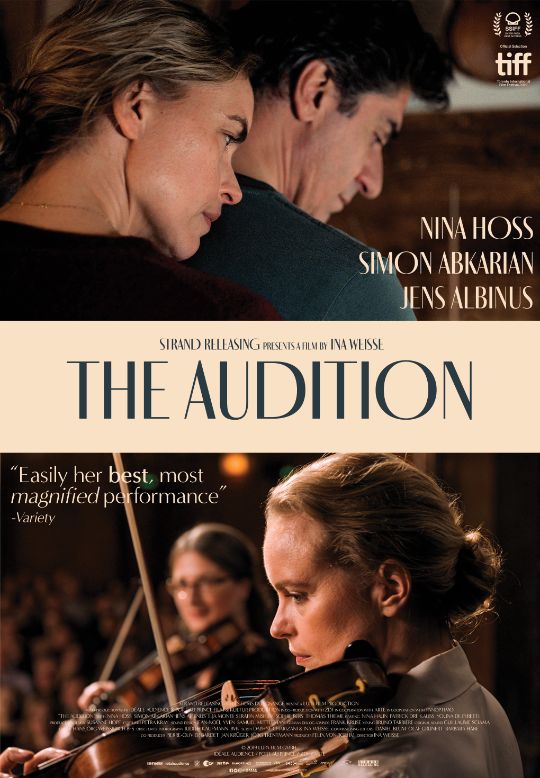 The audition
Anna Bronsky (Nina Hoss) is a stern violin teacher at a music-focused high school in Berlin. She's married to French violin maker Philippe (Simon Abkarian) and together they have a 10-year-old son, Jonas (Serafin Mishiev). During the school's annual admission exams, Anna drives through the entry of a student, Alexander (Ilja Monti), in whom she detects a remarkable talent, despite the opposition of all the other teachers.

Becoming obsessed with Alexander's progress as she prepares him for the intermediate exam, Anna neglects her husband and brings her violinist son Jonas into competition with her new student. As she looks for new challenges in her rather dull family and professional life, her colleague Christian, with whom she has an affair, persuades her to join a quartet.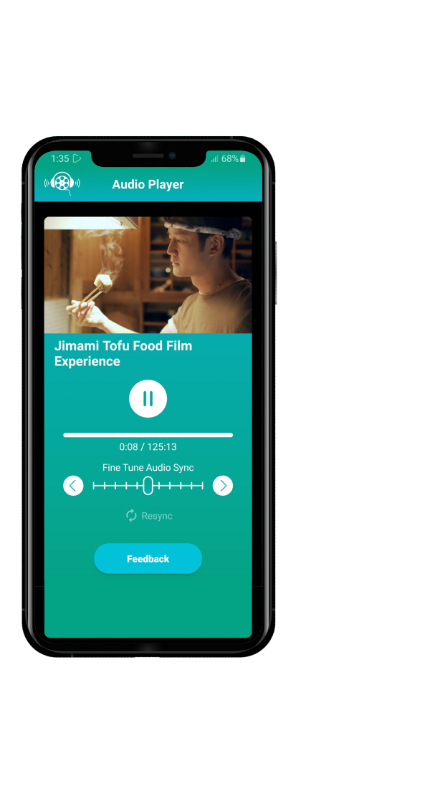 download the Cinewav app
On Google Play and Apple Store
Find an Event you like
Browse exciting, novel cinematic events near you
buy and download the audio ticket
Secure online payment process; your ticket is always on your phone. The audio file can be downloaded in-app prior to the event.
enjoy the cinewav experience
Bring your favourite headphones and watch the film on a big screen while listening to the audio from your smartphone.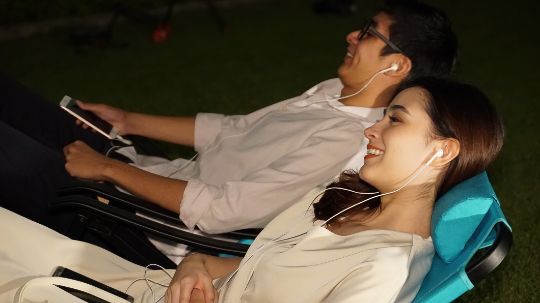 Benefits for our partners
Event Holders:
Turnkey solution for event movie screenings

No special equipment required - a laptop and a projector

Scalable audio without noise pollution

Replace expensive sound systems

Turn any outdoor or indoor space into a cinema

Pre-sell tickets and F&B

Contactless ticketing

Ticket scanner app

Perfect for socially distanced events

Transparent reporting and direct payments

Movie library with films from Disney, 20th Century Fox, Pixar, Marvel, Star Wars, Nat Geo, Sony and growing...